Parking and Transportation Services Launches New Hybrid Bus
Parking and Transportation Services Launches New Hybrid Bus
Jan 23, 2023
The Division of Student Engagement and Well-Being is excited to welcome a new hybrid Stinger bus to campus. The EZ Rider II was unveiled this week and added to the Gold Route as Georgia Tech Parking and Transportation Services (PTS) takes another step toward decreasing its carbon footprint by reducing greenhouse gas emissions.
According to senior director of PTS, Sherry Davidson, "Our transportation team took a hard look at how we could build the future that we all wanted to see. The result was changing the way in which we operate. Moving to hybrid improves sustainability while maintaining fiscal responsibility."
PTS is continually looking for ways to reduce its environmental impact, and this new bus is a significant step in that direction. One of the key advantages is its zero-emission electric mode, which allows the bus to operate fully electric for about 20% of the route. This not only helps to improve air quality but also reduces noise pollution.
"Hybrid" means that this new bus can switch between electric and gasoline power as needed, reducing emissions and increasing fuel efficiency. It also features advanced technologies such as regenerative braking, which captures energy normally lost during braking and uses it to recharge the bus's batteries. This not only improves fuel economy but also extends the life of the bus's braking system.
This new bus will also allow PTS to improve the customer experience and the efficiency of the overall transportation system. It also features automated passenger counters, automated stop announcements, and bike racks, and its low floor ramp will improve accessibility and ease of boarding for passengers. 
This new addition to the Gold Route is the first of nine hybrid buses to come to the Georgia Tech campus. The remaining fleet will arrive in April.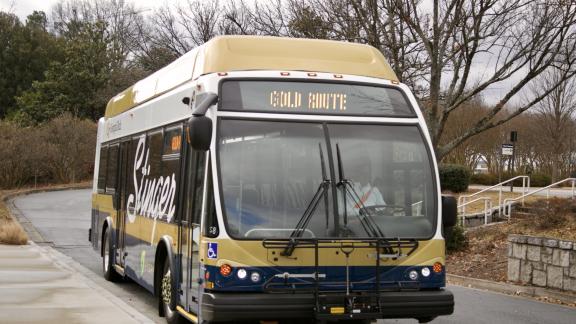 Student Engagement and Well-Being