BioSpark Labs Continues to Grow in Support of Life Sciences Research
BioSpark Labs Continues to Grow in Support of Life Sciences Research
Aug 24, 2023
BioSpark Labs — a collaborative, shared laboratory environment designed to enable life sciences and biotech startups, recently completed a $6 million expansion and, in celebration, the team is hosting an open house on Tuesday, Sept. 19, from 4 to 6 p.m. Guests are encouraged to RSVP by Friday, Sept. 8. 
The new space increases the facility's usable footprint to 17,000 square feet and adds five equipment rooms outfitted with $1.5 million in shared life science research equipment, including capabilities for flow cytometry, fluorescent imaging, real-time PCR testing, and cell culture. The buildout also includes one large, shared lab as well as two medium-sized and eight smaller private labs, along with additional workspaces and storage to attract and support emerging researchers and commercialization in the bioscience industry. Additional cleanrooms are expected to go online in early 2024.  
Developed and managed by Georgia Advanced Technology Ventures Inc., an affiliate of the Georgia Institute of Technology, BioSpark Labs is helping to advance the life sciences ecosystem in Atlanta. Strategically located in the Science Square district adjacent to Georgia Tech's main campus in Atlanta, BioSpark Labs is already home to several bioscience startups, including Arnav Biotech, Exvade Bioscience, SynthBiome, and Karnelian X, an innovator in cancer treatment with significant expansion plans. Microelectronics startup Saras Micro Devices also occupies space in BioSpark Labs. 
"The BioSpark Labs space is truly tailored to support early-stage companies that need turnkey laboratory amenities for their operations," said Tony Zivalich, associate vice president for Real Estate Development. "In addition to its flex-use configuration, it is attractive lab space because of its location in the Science Square district and proximity to Georgia Tech — and to some of the brightest minds in life sciences research right here in Atlanta."  
As a bonus, companies moving into Science Square — a designated federal opportunity zone — may benefit from this program, which is designed to provide tax benefits for long-term investors in the district.     
Zivalich added that the Science Square district is just getting started. Phase one, which includes the Science Square Labs building, the apartment community, and a new parking deck, are all on schedule to be completed in March 2024. You can learn more about it here sciencesquareatlanta.com.  
Those interested in learning more about BioSpark Labs are invited to see the space in person at the open house on Sept. 19. Light refreshments will be provided. RSVP here. 
About Georgia Advanced Technology Ventures Inc.  
Georgia Advanced Technology Ventures Inc. (GATV) is a legally separate, not-for-profit corporation that is organized and operated exclusively as a supporting organization to and for the benefit of the Georgia Institute of Technology.   
GATV's primary business purpose is to facilitate innovation and business collaboration with private enterprise, including but not limited to business, industry, entrepreneurs, and economic developers, and utilizing emerging technologies that are aligned with the strengths in research and education of Georgia Tech.  
GATV provides support for technology transfer and economic development activities, including the Institute's Advanced Technology Development Center (ATDC) incubator facilities and services to ATDC-affiliated companies.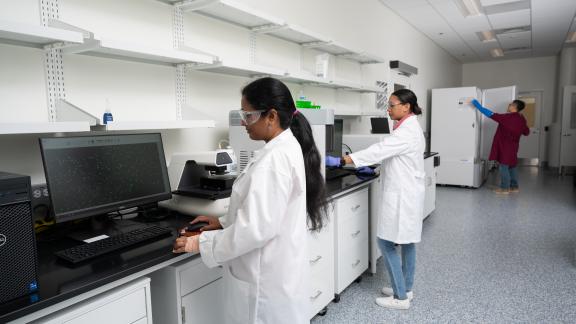 W. Blair Meeks
Assistant Vice President External Communications
Georgia Tech