Vice President's Visit Brings Climate Change Discussion to Forefront
Vice President's Visit Brings Climate Change Discussion to Forefront
Feb 09, 2023
With the Ferst Center filled to the brim Wednesday, Georgia Tech hosted Vice President Kamala Harris for a discussion about the climate crisis, which she called a transformational moment in America.
Speaking on the "moment of great opportunity" in the face of the equally daunting challenge of the climate crisis, Harris participated in a moderated discussion at the Ferst Center for the Arts on the Georgia Tech campus Wednesday afternoon.
The vice president spoke to students, faculty, staff, and community members with the message of creating an equitable clean energy economy and how it will take a true team effort to achieve that goal.
"In order for us to truly achieve that, it's going to require all to be involved … our scientists, our researchers, our academicians," she said. "But it's also going to be about our students. It's going to be about our unions. It's going to be about the private sector. It's going to be about our teachers. It's going to be about our youth leaders. It is going to take a whole community."
Continuing Georgia Tech's longstanding tradition of hosting elected officials, going back to 1905 with President Theodore Roosevelt, Harris was joined by Isaiah Bolden, assistant professor in the School of Earth and Atmospheric Sciences, and James Marshall Shepherd, director of the Atmospheric Sciences Program at the University of Georgia. Each spoke of how their life experiences led them to their respective career paths.
Bolden's passion for climate science was born out of tragedy as he saw his hometown of Nashville, Tennessee, flooded. Seeing the number of people and entire communities that were displaced, Bolden shared that his career choice became clear in that moment.
"I had this passion burgeoning right then and there as someone who has this aptitude for science, this aptitude for math, but then seeing that the science is not reaching the public in a way that it should," he said. "What can I then do with my career as an environmental scientist to generate data and get that data into the hands of people who could do something with it?"
Perhaps the most visible sign of a movement toward the country's recent commitment to climate change efforts is the increased number of electric vehicles on roadways. With Georgia positioning itself as a leader in that sector by attracting manufacturers such as Hyundai, Rivian, and Qcells to the state, Georgia Tech President Ángel Cabrera emphasized that the campus in the heart of Atlanta was the "perfect place" to host Wednesday's discussion.
"As one of the nation's leading research universities, Georgia Tech is committed to making sure that our $1.3 billion research enterprise, our unmatched faculty expertise, and our top students help in this process by producing new solutions and exceptional talent while driving economic opportunity through job creation," he said.
In addition to community resilience policies that focus on removing lead pipes in cities across the country and other funding created through the Inflation Reduction Act and the Infrastructure Investment and Jobs Act, Harris spoke passionately about the electrification of school buses.
Currently, 90% of the buses that carry 25 million children to school daily are diesel-fueled. Along with the public health and environmental impact of electrifying buses, Harris touted the prospect of creating new jobs and new manufacturing opportunities.
As the climate conversation continues, Shepherd emphasized that these are "kitchen table issues" that affect everyone. Harris reiterated that point, noting that the discussion serves as an intersection for environmental justice and equity in public health and education before closing with a message to the next generation of leaders.
"You are coming out and we're talking about all kinds of creative, very exciting ways to do this that are going to be about public health, public education, strengthening our economy, investing in jobs, respecting the dignity of work, being a model for the world, and being a good shepherd of resources, both in terms of the responsibility that America has to Americans and that America has to its neighbors," she said.
Joe Bozeman III, assistant professor in the School of Civil and Environmental Engineering whose work as an industrial ecologist highlights the need for equitable climate change adaptation and mitigation strategies, left the Ferst Center with a sense that the discussion around climate policy is moving into the forefront.
"Seeing the vice president speak so confidently and expansively about the issue of climate justice, equity, and the engineering side of things, I really found myself impressed," Bozeman said. "I feel more confident about the administration's intent behind some of the acts they've passed, and I'm enthused to continue to do the work as a researcher here at Georgia Tech."
He also noted how the vice president's visit serves as a reminder of Georgia Tech's important role in the community and how the campus serves as a place for collaboration.
"The HBCU representation here, in particular, was exciting for me to see. And my hope is that we can continue to make some of the internal efforts connecting with our HBCUs and our other minority serving institutions and come up with the kind of innovative, inclusive solutions that may have eluded us 10 or 20 years before," he said.
Past Presidential Visits to Georgia Tech
President Theodore Roosevelt
October 20, 1905
President-Elect William H. Taft
January 16, 1909
President Franklin D. Roosevelt
November 29, 1935
President Jimmy Carter
February 20 and August 30, 1979
President William J. Clinton
July 19, 1996
President George W. Bush
March 27, 2002
President Barack Obama
March 10, 2015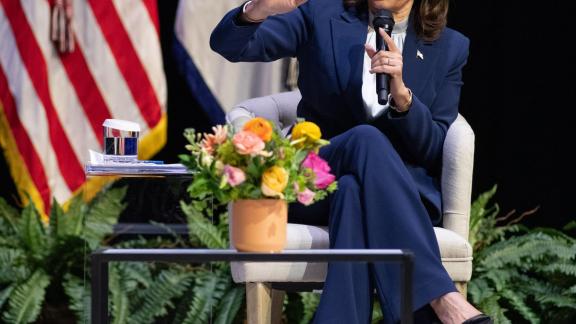 Vice President Kamala Harris participates in climate change discussions on the Georgia Tech campus moderated by Isiah Bolden and James Marshall Shepherd.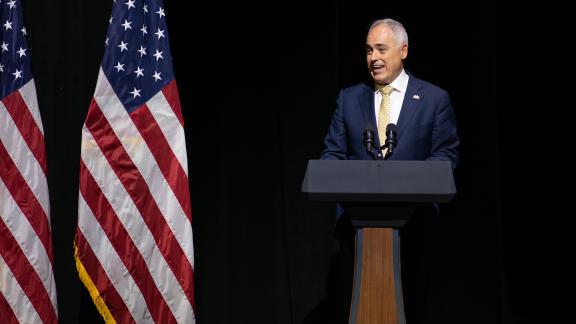 President Ángel Cabrera welcomes attendees to the discussion hosted by Vice President Kamala Harris on Feb. 8, 2023. Photo by Rob Felt